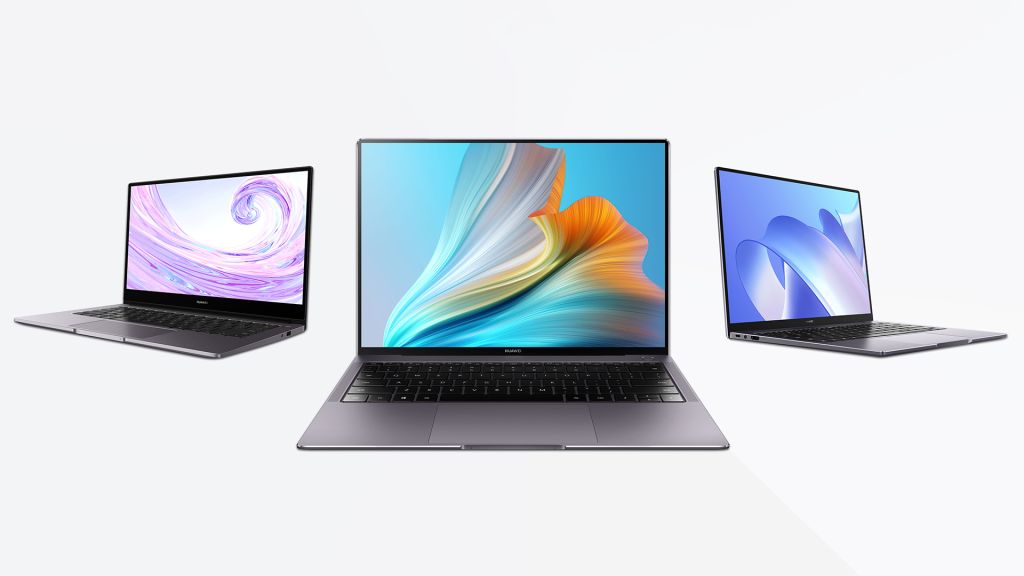 LEFT to RIGHT: HUAWEI MateBook D 14, HUAWEI MateBook X Pro, HUAWEI MateBook 14 (Image credit: Huawei)
HUAWEI has just launched its latest laptops: the ultraportable Matebook family. These laptops deserve to be on anyone's Christmas wish list this year, as they offer that rare quality whereby the performance enhancements improve your productivity while the design and ergonomics make them a joy to use. Whether you need a laptop for school or the boardroom, HUAWEI has you covered with models ranging from the $1,199 MateBook D 14, through the $1,799 MateBook 14 to the elite, $2,999 MateBook X Pro.
We are Tradelectronics, licensed second-hand electronics dealer located in Sydney CBD, experts in trading used laptops, old cameras & lens, and used mobile phones. Fast, Reliable & We Pay More! Get a free quote on your favourite WhatsApp, Facebook, SMS & Email, instant reply!
| | |
| --- | --- |
| Click icon for WhatsApp Quote | Click icon for facebook Quote |
| | |
We are open from Mon – Sat 12pm – 7pm
Get your free quote from WhatsApp and Messenger are highly recommended, we can guide you through in finding the accurate specs for your laptops, cameras & lens, mobile phones as well. As such we can provide a more precise quote for you.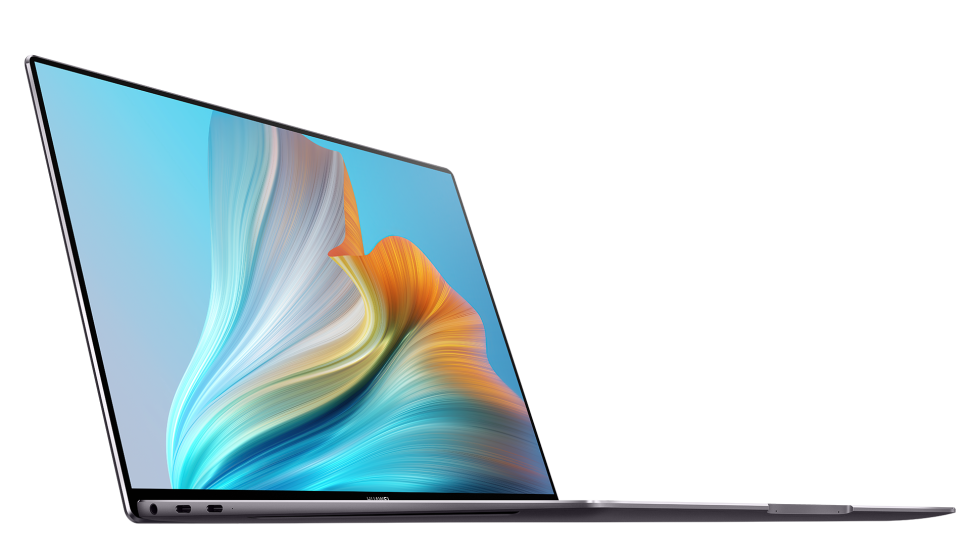 HUAWEI MateBook X Pro (Image credit: Huawei)
What's great about the new MateBooks?
All three of the new MateBooks have characteristics that are consistent across the range. All have ultra-slim, sturdy, lightweight, sub-1.5KG, metal chassis that have been sandblasted and diamond-milled. Their 'Slate Grey' styling oozes sophistication in a way that they'll turn the heads of passers-by and attract approving nods in the boardroom.
The first thing you might notice is the remarkable amount of screen real estate. The screens are nearly borderless, with the bezels so thin that you're getting a vast 91% screen-to-body ratio on the MateBook X Pro's 3K display, and 90% for the MateBook 14 and D14's 2K screen. It all makes for a delightful experience as your work and media are delivered in a powerful unimpeded experience.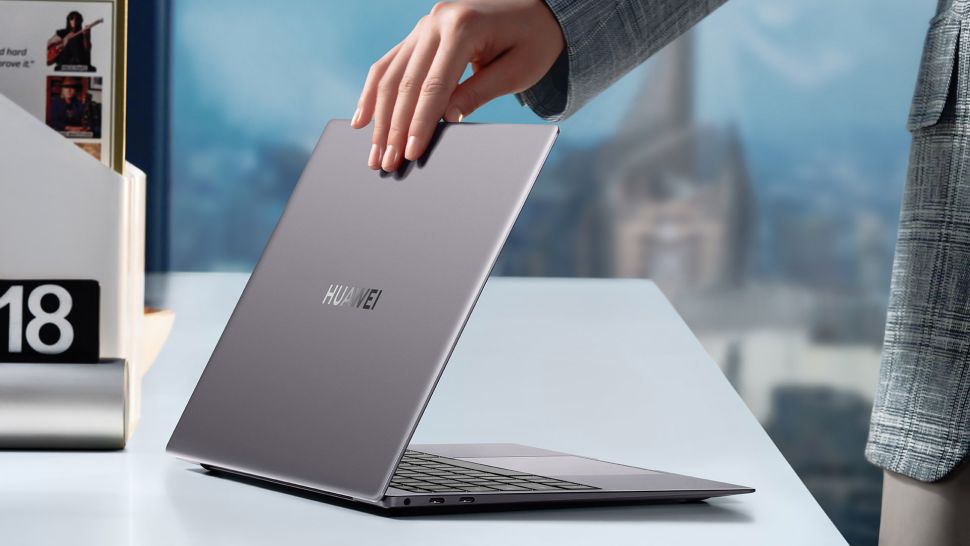 HUAWEI MateBook X Pro (Image credit: Huawei)
Security is also a common theme. All have a fingerprint reader embedded into the power button. Furthermore, the HD webcam is cleverly recessed inside the keyboard, meaning it can only operate when it visibly pops-up out of the chassis – you won't be worried about snoopers. Web conferencing is enhanced, with the premium MateBook X Pro also introducing new, front-facing, dual-array microphones which can detect voice from five metres away while simultaneously using special algorithms to block out background noise.
If you have a HUAWEI phone, you'll love the HUAWEI Share feature. Just tapping your phone on the laptop's NFC chip allows you to operate the two devices as one or complement one another as a boost for productivity. This is great if you need to edit content on your phone but don't want to have to transfer files back and forth but there are many more features too.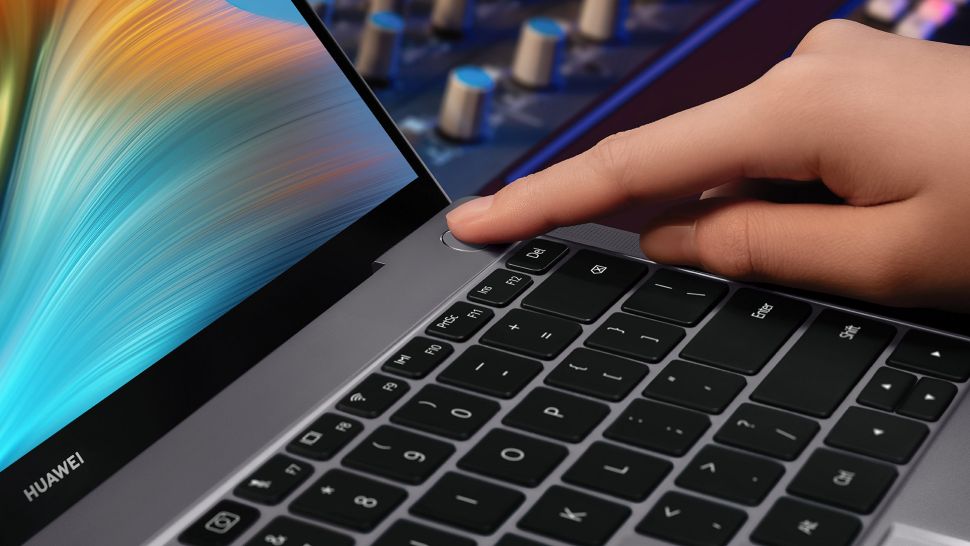 The HUAWEI MateBook X Pro features a fingerprint scanner built into the power button (Image credit: Huawei)
What are the differences between the new HUAWEI Matebooks?
The new MateBooks stretch from highly affordable, wallet-friendly territory, to an all-bells-and-whistles executive choice. Every new MateBook looks stunning, and are among the most beautiful on the market with their premium finish and design.
HUAWEI MateBook D 14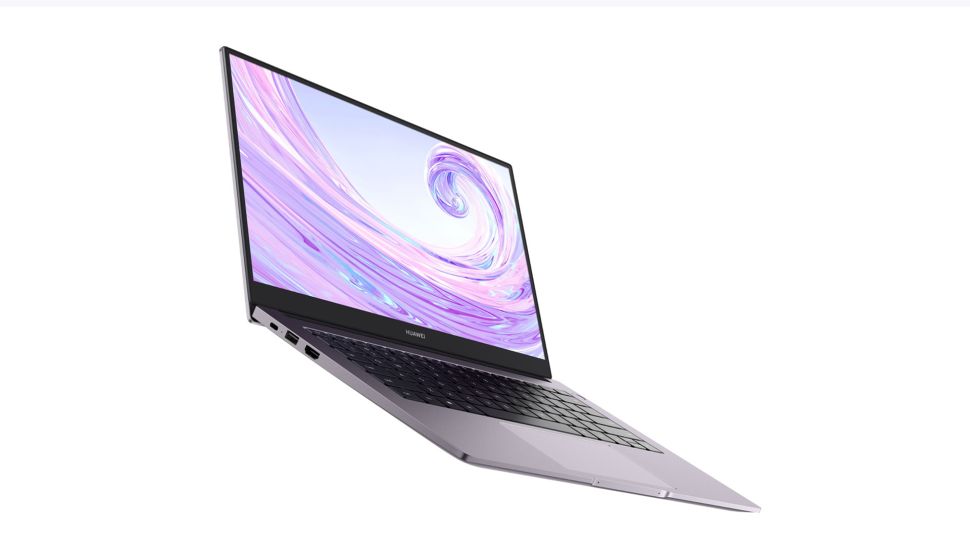 HUAWEI MateBook D 14 (Image credit: Huawei)
At just $1,199 the Matebook D 14 is a well-built ultraportable that weighs just 1.38KG, is just 15.9mm thick and has a 13-hour battery life! The lovely metallic body oozes class and adds strength, perfectly complimenting the FullView display and its ultra-thin bezels. The colourful, 14-inch Full HD screen is surrounded by ultra-thin borders to avoid distractions. Inside, a 512GB hard drive and a 10th -Gen Core i5 processor provide power-efficient performance.
Connectivity includes Wi-Fi 5, Bluetooth, and both types of USB ports. There's also an HDMI video out port and a 3.5mm headphone jack. Sound is catered for by dual, 2-Watt speakers. Ultimately, the HUAWEI MateBook 14 offers everything people want from a work-oriented ultraportable. If you order now you can get a free backpack worth $99.
HUAWEI MateBook 14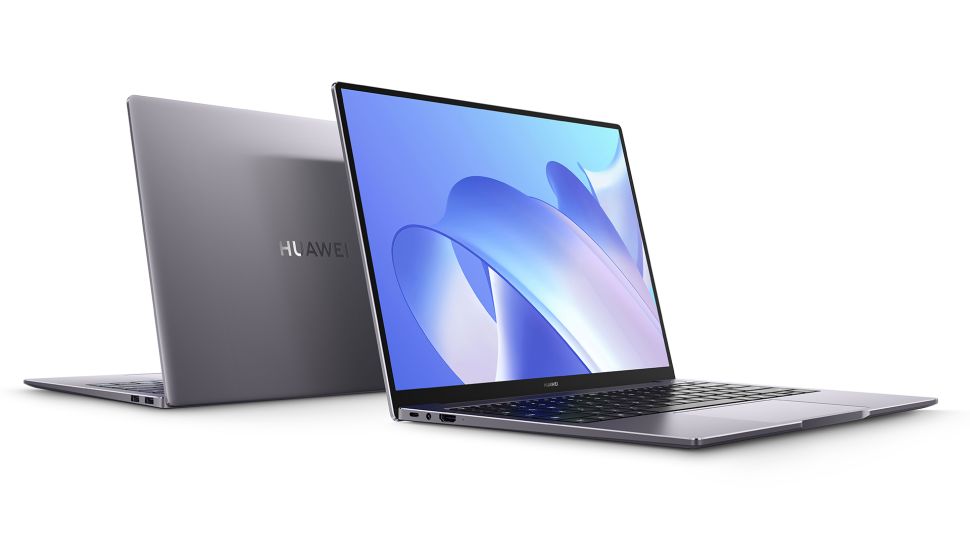 HUAWEI MateBook 14 (Image credit: Huawei)
Dialling things up a notch is the $1,799 HUAWEI MateBook 14. This beauty also measures just 15.9mm thick, weighs only 1.49KG and has a battery life of 11 hours. Like the MateBook X Pro, this beauty also features a classy metallic body. The big change here is the move up to a 3:2 aspect ratio screen which has a crisp, Ultra High Definition 2,160 x 1,440 resolution and flicker-free, low-blue-light technology for eye comfort, all presented in the FullView display with bezels so thing you'll barely notice them.
Inside is one of Intel's latest, 11th-Gen Core i5 processors and 512GB of fast storage. The integrated Intel Iris Xe graphics will even be powerful enough to play casual and competitive games. This is all paired with a new, 'Shark-fin' cooling system which removes heat 50 per cent more efficiently without making a din. It has Wi-Fi 6, BlueTooth and a complement of the latest, wired, connectivity ports. Order now and get HUAWEI premium noise-cancelling FreeBuds Pro wireless earbuds thrown in for free (while stocks last) they're worth $329!
HUAWEI MateBook X Pro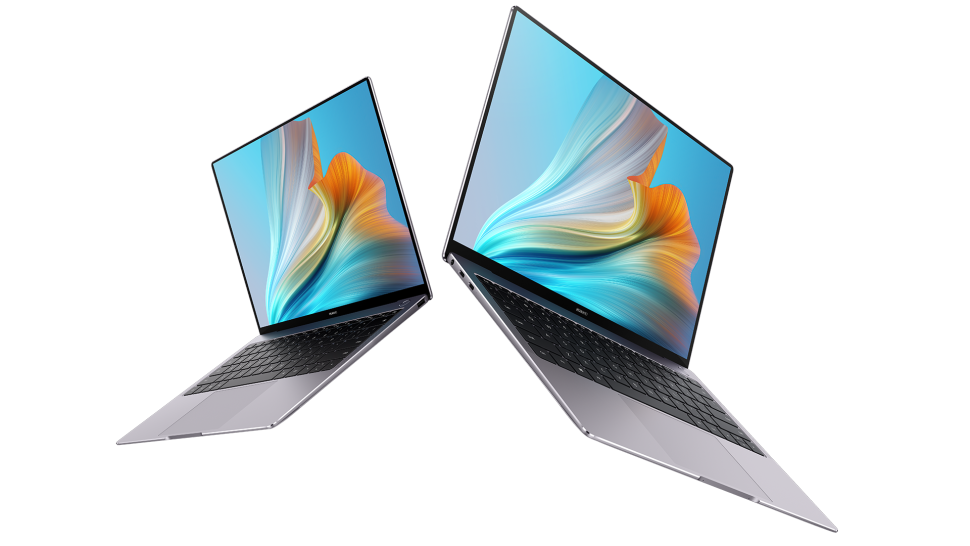 HUAWEI MateBook X Pro (Image credit: Huawei)
At the top of the pile is the new 13.9-inch MateBook X Pro – the uncompromising, elite flagship of the range. It's just 14.6mm thick and weighs just 1.33KG. Like every new MateBook, it's housed in a quality metallic body that's always a treat to look at. The 10-point touch screen is boosted to a bright, 3K resolution and has such thin borders that they're barely there, thanks to the FullView display that delivers a huge 91% screen-to-body ratio.
Inside is a high-end, 11th-Gen Intel Core-i7 processor plus 16GB of special, fast, low-power memory plus a fast 1TB hard drive. These are all cooled by a special dual-fan technology with 'vapour chambers' to keep things cool and quiet. Despite the power, it still lasts 11-hours away from the mains and can gain 4.5-hours of battery life in just 30 minutes of charging. At $2,999 it represents great value for an elite, business ultraportable. Early-bird buyers can also get FreeBuds Pro earbuds thrown in for free!
Which MateBook should you buy?
With all three MateBooks offering stylish portability, you're left with making a choice of power and performance that matches your budget. If your power demands aren't great and you want to save money while performing lightweight office tasks, choose the MateBook D 14 at just $1,199. If you need a bit more oomph and a higher resolution screen then go for the MateBook 14 at $1,799. However, if you need uncompromising performance, all the bells and whistles and cutting-edge, weight-saving efficiencies that would put a race car to shame, it has to be the amazing MateBook X Pro.
Whichever you choose, whether it's for yourself or someone else, these laptops will make someone very happy this Christmas!
How to get your new HUAWEI MateBook
Here are the main specs and features of the new HUAWEI MateBook family, and links to find out more and place your order.
* HUAWEI MateBook X Pro: The HUAWEI MateBook X Pro 2021 is a 13.9-inch ultra-slim laptop with 3K FullView touch display and 11th Generation Intel® Core™ i7 1165G7 processor. With a metallic finish, thickness of approx. 14.6 mm and weighing only at approx. 1.33 kg, the MateBook X Pro 2021 is a premium, lightweight personal computer that you would not want to miss.
RRP: $2,999, Order Bonus Offer*: HUAWEI FreeBuds Pro (value $329)
Available from: Microsoft Store, CentreCom, Mobileciti, HUAWEI Experience Store and online. *Offer valid while stocks last 
* HUAWEI MateBook 14: HUAWEI MateBook 14 2021 ultra-slim and lightweight metal body, and 2K FullView Display is engineered to maximise impact by pushing the viewing area to the limit. The result is a broader, cleaner, and more intense visual experience. The 14" screen covers 100% of the sRGB colour space, so hues are vivid and precise. And with flicker eliminated and blue light reduced, your eyes will stay fresh even after long hours of use.
RRP: $1,799 Order Bonus Offer*: HUAWEI FreeBuds Pro (value $329)
Available from: Microsoft Store, CentreCom, Mobileciti, HUAWEI Experience Store and online. *Offer valid while stocks last
* HUAWEI MateBook D14: HUAWEI MateBook D 14 ultra-slim and lightweight metal body is fitted with a remarkable IPS display and the bezels have been stripped back to just 4.8mm, making the 14-inch FullView display look nearly endless. The power button of the HUAWEI MateBook D 14 has a built-in fingerprint reader. Weighing in at just 1.38kg and with a thickness of 15.9mm, the streamlined design helps to shape its slender metallic body.
RRP: $1,199 Order Bonus Offer*: Laptop Backpack (value $99)
Available from: Microsoft Store, CentreCom, Mobileciti, HUAWEI Experience Store and online. *Offer valid while stocks last