FOR

Only a third of the price of some budget telephoto zooms
Decent optical performance at the short end of the zoom range
Quite light in weight for a full-frame lens
AGAINST

Lacks Tamron's Vibration Correction stabiliser
Poor sharpness in the 250-300mm zoom range
Basic autofocus system is very sluggish
One of Tamron's Digitally Integrated (Di) lenses, the AF 70-300mm f/4-5.6 Di LD Macro is designed for use on both full-frame and APS-C-sized cameras. It's available in Canon, Nikon, Pentax and Sony fit and, on APS-C bodies, the effective zoom range is 105-450mm or, for Canon cameras, a slightly longer 112-480mm.
For Nikon users, one point worth noting is that the original Nikon-fit version of this lens, made before February 2008, didn't feature a built-in autofocus motor, so can't autofocus on bodies such as the D3100 and D5100. Unlike Tamron's newer SP 70-300mm VC USD // lens, this one also lacks an optical stabiliser.
The optical design is based on 13 elements in nine groups, with a nine-blade diaphragm that enables an aperture range of f/4-5.6 to f/32-45. The smaller than usual minimum aperture is useful for extending depth of field in macro mode.
The macro facility is available in the 180-300mm focal length range, via a switch on the lens barrel, and offers a maximum 0.5x magnification when shooting at 300mm and the shortest focus distance of 95cm. It's a feature that's quite uncommon on telephoto zoom lenses but is shared by the Sigma 70-300mm APO Macro lens.
Autofocus is of the standard electric motor type, rather than Tamron's newer Piezo Drive (PZD) or Ultrasonic Silent Drive (USD) systems featured on some of its latest lenses, the latter being fitted to the Tamron SP 70-300mm VC USD.
The Tamron AF 70-300mm f/4-5.6 Di LD Macro lens also lacks internal focusing, so the front element extends and rotates during focusing.
Build quality and handling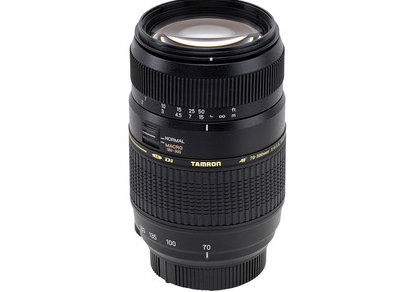 Surprisingly lightweight for a full-frame camera lens, the Tamron AF 70-300mm f/4-5.6 Di LD Macro weighs just 435g. The downside is that it also feels a bit flimsy and plasticky.
At 77-117mm, it's also fairly compact, although the length stretches to 214mm with the lens hood fitted, at the closest normal focus setting and maximum telephoto zoom. The overall length extends further, to 237mm at the 0.5x macro setting.
Handling is hampered by a slightly stiff and jerky zoom ring, but at least there's no zoom creep. By contrast, the focus ring is very smooth and effective. There's also a handy focus distance scale printed around the rear edge of the focus ring, and a macro magnification scale at the front edge.
Performance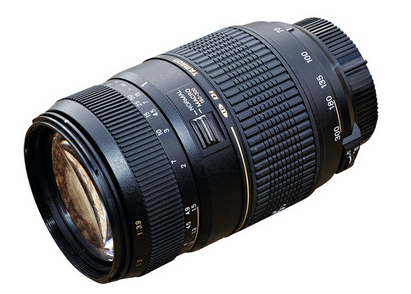 A capable performer throughout the 70-200mm zoom range, the Tamron AF 70-300mm f/4-5.6 Di LD Macro loses the plot a bit as you get towards its maximum 300mm focal length. Sharpness drops off, compounded by a lack of stabilisation for handheld shooting.
The net result is that getting consistently sharp long shots is always a challenge. Sharp macro shots are equally tricky, because resolution drops massively if you choose a very small aperture to try to increase depth of field.
Based on a standard electric motor, autofocus proved painfully slow in our tests, especially at long focal lengths, where it was particularly ponderous as well as being prone to hunting back and forth when trying to lock onto targets. Colour fringing was also more noticeable than with many competing lenses, especially towards the edges and corners of the frame.
Want to know where to sell your camera in Sydney? Or you have a similar product to sell? Go to Tradelectronics for the best price!