FOR

More telephoto reach than most APS-C zoom lenses
Very good image quality
4-stop stabiliser enables consistently sharp handheld shots
AGAINST

Front element rotates and extends during focusing
Basic rather than ring-type AF-S autofocus
You'll have to ditch it if you upgrade to a full-frame camera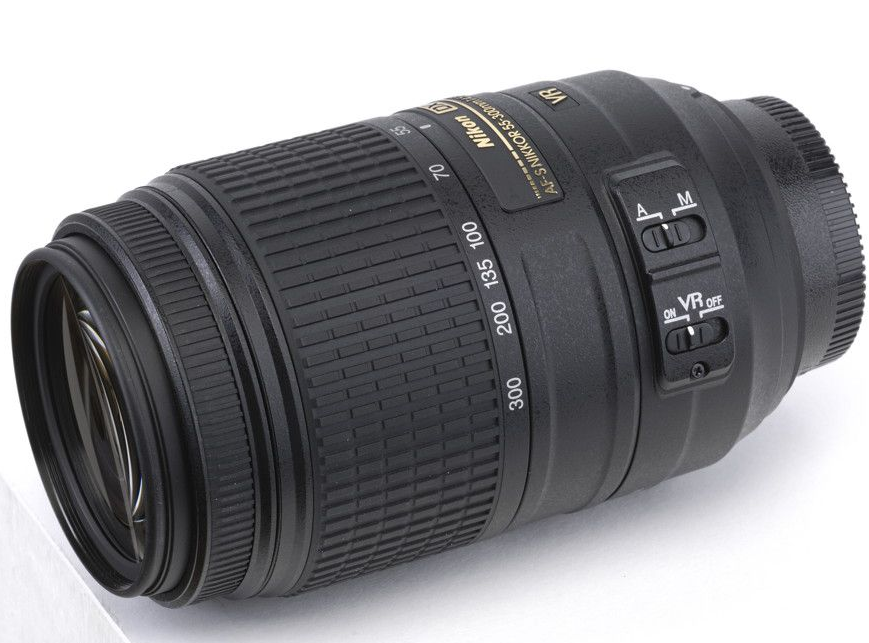 Most telephoto zoom lenses designed specifically for APS-C rather than full-frame DSLRs have a zoom range of about 50-200mm. This gives them an effective zoom range of 75-300mm on Nikon camera bodies such as the D3100 and D5100, very close to the classic telephoto zoom range of 70-300mm on full-frame cameras.
However, many photographers fit full-frame telephoto zooms to APS-C cameras, even though they're usually bigger and heavier, because this boosts the effective telephoto reach to 450mm. Launched in September 2010, the Nikon Nikkor AF-S DX 55-300mm f/4.5-5.6G ED VR aims to give you the best of both worlds, combining a compact and lightweight design optimised for APS-C cameras with extra telephoto reach.
Under the skin, the Nikon 55-300mm VR is based on 17 elements in 11 groups, including two ED (Extra-low Dispersion) elements and one HRI (High Refractive Index) element to boost image quality.
An aperture range of f/4.5-5.6 to f/22-29 is enabled by a nine-blade diaphragm that has two more blades than the cheaper and smaller Nikon 55-200mm VR lens. The result is a smoother bokeh, or quality of defocused elements in an image.
Another major difference between the two lenses is that the 55-300mm boasts Nikon's newer VR II Vibration Reduction system, which gives 4-stop rather than 3-stop protection against camera-shake.
The AF-S (Silent Wave) autofocus actuator uses a small ultrasonic motor that's fairly quiet but not as fast or near-silent as Nikon's more advanced ring-type AF-S, and lacks full-time manual override in Single AF mode. For ring-type AF-S autofocus in a Nikon telephoto zoom, you need to trade up to the full-frame 70-300mm VR lens.
With its minimum focus distance of 140cm, the lens gives a maximum magnification factor of 0.22x at its longest telephoto setting, which is about average in this class of lens. The filter thread is 58mm and the lens comes complete with hood and soft pouch.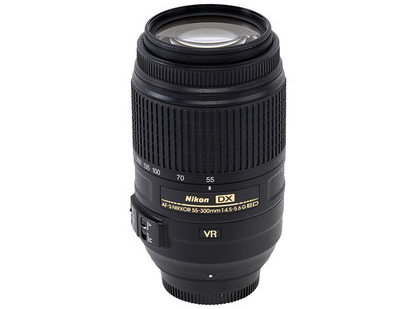 Weighing 530g, the Nikon Nikkor AF-S DX 55-300mm f/4.5-5.6G ED VR is noticeably heavier than the 335g Nikon 55-200mm VR, and it's 23mm longer, at 77 x 123mm. This extends to maximum length of 225mm with the hood fitted, at the longest zoom and closest focus settings.
Unlike the Nikon 55-200mm VR and 70-300mm VR, this lens doesn't have internal focusing, so the front element both extends and rotates during focusing. It's a bit of a pain when you're using filters such as a circular polariser, where rotation of the filter is critical.
Despite being longer than the Nikon 55-200mm VR, the zoom ring on the 55-300mm is actually a little shorter but still very comfortable in use. The action is smooth and there's no zoom creep even when using the lens vertically.
The manual focus ring is perched on the front of the lens, so doesn't get fouled by your fingers during autofocus. It's slightly larger than the focus ring on the 55-200mm VR and a little easier to use, but still doesn't have a focus distance scale.
Performance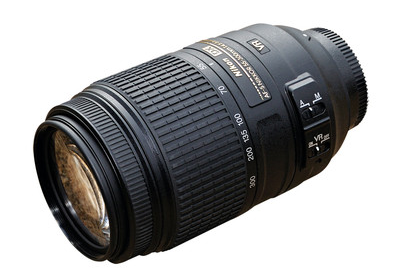 Autofocus is as quick and quiet on the Nikon Nikkor AF-S DX 55-300mm f/4.5-5.6G ED VR as with the Nikon 55-200mm VR throughout most of the zoom range, although it slows a bit at the maximum focal length of 300mm. Vibration Reduction gives rather more consistent results and lives up to its 4-stop claims.
Optically, the Nikon 55-300mm VR is impressively sharp throughout its entire zoom range, from the largest available apertures of f/4.5-5.6 down to f/16.
There's plenty of contrast too, and vignetting is well controlled, especially considering the big zoom range. Distortion is fairly minimal throughout the zoom range, and only really noticeable at around 135mm, where there's a little pincushion distortion.
Have a similar product to sell? Or interested in buying lens? Tradelectronics is the best place to go!